New Hatfield McCoy Marathon Web Site
NO TIME LIMIT.
NOTICE TO FIFTY STATERS: THIS RACE COUNTS AS

EITHER WEST VIRGINIA OR KENTUCKY. RUN TWO YEARS AND GET BOTH STATES.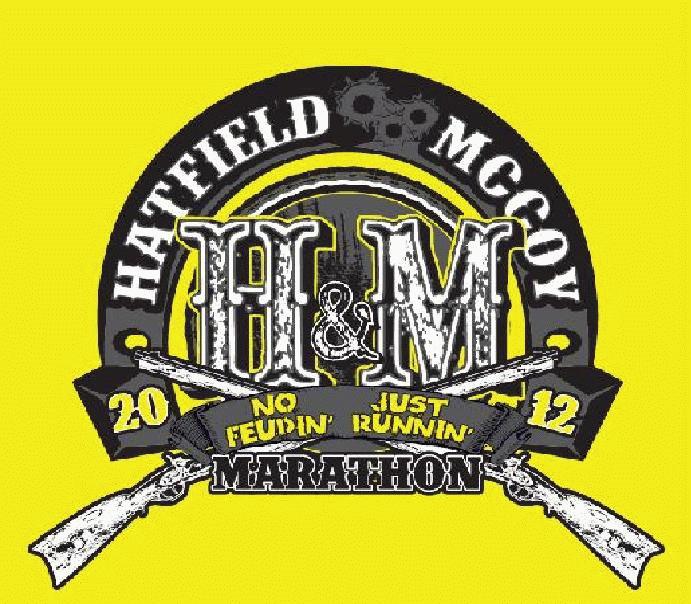 Check out what other runners are saying about our race!
Hi, my name is David Hatfield, Race Director and President of the Tug Valley Road Runners Club. I am in hopes that this will answer some of the many questions you have concerning the Hatfield-McCoy Marathon and Half-Marathon to be run on June 08, 2013. This is our 14th year. I wan't to welcome back those who have run with us before and to first timers. You are all family now! Hatfield or McCoy!!!

The Hatfield-McCoy Marathon has something for everyone, from 26.2 and 13.1 mile runs to our kid's Once Around The Block Mini Marathon. The race begins in Eastern Pike County, KY in a small area known as Goody, KY on the parking lot of one of our sponsors, Food City Food Stores. We run a scenic course that will surprise you. There is one hill between miles 6 & 7 while the rest of the course is flat to rolling and runs on the roads that follow the creeks and rivers. Both finish lines are in West Virginia. The half-marathon ends in historic Matewan, WV and the marathon in Williamson, WV at the World Famous Coal House. In the past we have had runners from all across the USA and around the world participate. We expect 600 runners this year. Read about us in Running Times

The Hatfield-McCoy Marathon is part of the Hatfield-McCoy Reunion Festival which will be held June 07 & 08, 2013. Proceeds from this race go to support TVRRC children's running programs and scholarship funds. The two best ways to get here are US 119 and US 52. Hotel rooms are available but they fill up fast. There will be a pasta dinner available on June 8th at Belfry High School on US119 & State Hwy. 308 at 6:00PM. Proceeds from the dinner go to the Belfry High Soccer Team. And there will be a post-race Pig Fest with music and Pig fixed just about any way you'd want it.

This year when you register, unless you are a "True Hatfield" or a "Real McCoy," the field of runners will be divided in half and designated Hatfields or McCoys. If you don't already know about the feud between the families, that's a whole story in itself. By participating in this added fun and competition you can help answer one of history's most asked questions, WHO WON THE FEUD, the Hatfield's or the McCoys? At the end of the race, the family with the lowest total time will win the feud, at least for 2013. A plaque will be placed on display at each finish line and each year a new plate will be added with the winning family's name for that year.

So come back home to the hills and run with the Hatfield and McCoys.
As one of us we hope you will enjoy the best kept secret in marathon running today, The Hatfield & McCoy Marathon and Half Marathon. If you have any other questions or just want to talk,you can contact me night or day and I will answer all your questions. Thank you in advance for choosing to run the Hatfield-McCoy Marathon.

Your Fellow Runner,
David Hatfield
http://hatfieldmccoycountry.com/feud/ https://www.facebook.com/hatfieldmccoymarathon